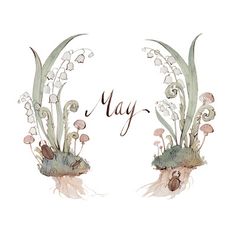 * The name of this month is derived from Maia, the Roman goddess of growth. Maia is also one of the brightest stars in the Pleiades, in the Taurus constellation
* The zodiac signs for May are Taurus and Gemini.
* The birthstone associated with this month is the Emerald, which signifies rebirth, youth and is thought to grant the wearer foresight. This rare and highly precious stone is mined primarily in Afghanistan, Brazil, Colombia and Zambia.
* Lily of the Valley is the traditional flower for this month, a symbol of sweetness.
May is the last but often considered the brightest month of the spring season. There are always reasons to celebrate; special holidays include Mother's Day on May 10, and Memorial Day, on the last Monday of the month. So we hope you enjoy this month along with all your loved ones, near and far.
Image by hkelseygarrityillustration.blogspot.ca
You may also be interested in...