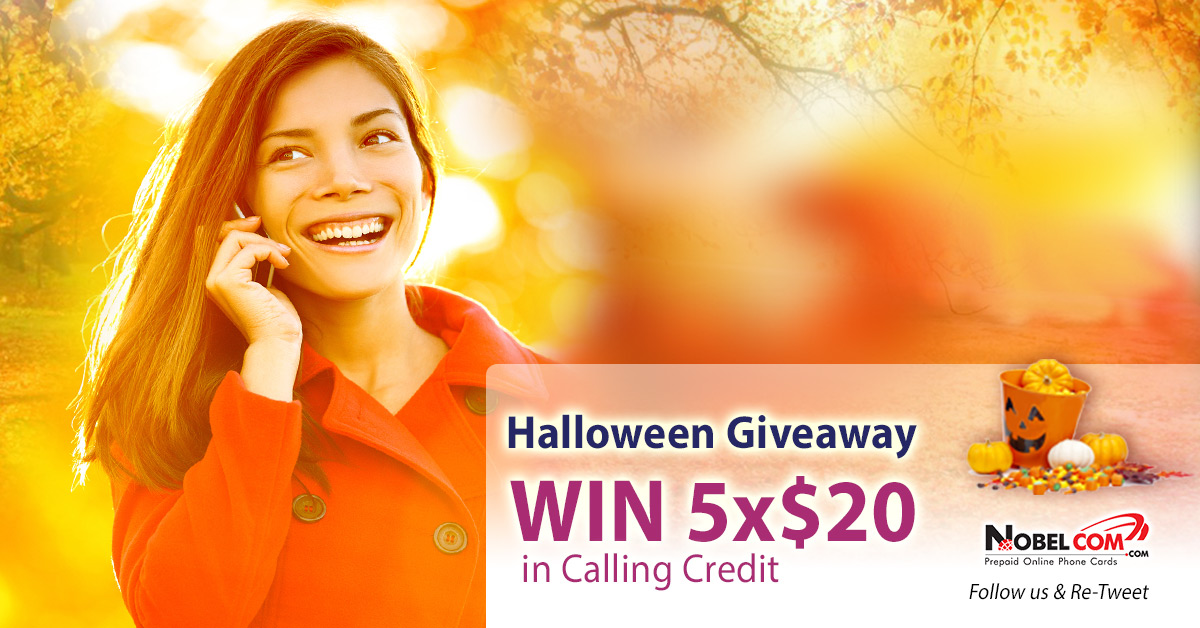 More surprises are coming your way! We love Halloween so much that we decided to organize a Giveaway on Twitter. Want to be one of the 5 lucky winners that will receive $20 in calling credit? Nothing easier! Simply follow us on Twitter and re-tweet the contest post from our NobelCom account.
In order to participate you need to be an existing NobelCom client and have a rechargeable NobelCom PIN (phone card). You can find below the detailed terms and conditions for this Giveaway.
Good luck to everyone!
***
NobelCom`s Twitter Halloween Giveaway T&C
The rules and regulations below apply to the giveaway held between October 22nd, 2015 and October 31st, 2015.
Giveaway duration and period
NobelCom`s Twitter Halloween Giveaway will run starting October 22nd, 2015 until October 31st, 2015 on our Twitter page (https://twitter.com/NobelCom). All participants who enter the giveaway during the period October 22nd, 2015 -October 31st, 2015. (dates are including) are considered valid entries and are eligible for winning the offered prizes.
Validation of entries
To qualify as a valid entry and potential winner, each person must cumulatively meet all of the following conditions:
1. a potential winner must be an existing NobelCom client and have an active rechargeable NobelCom PIN (phone card);
2. to participate in the giveaway, a contestant must follow NobelCom`s Twitter account and re-tweet the giveaway post (https://twitter.com/NobelCom/status/658614615752970240); only followers acquired during the aforementioned sweepstake period will be taken into consideration.
Odds of winning will depend exclusively on the total number of valid entries received.
By entering the contest, the users grant the absolute and irrevocable rights to NobelCom to use their testimonials anonymously within NobelCom's headquarters and outside the office, with the purpose of creating advertisement materials that will be published on the Internet (World Wide Web) or printed materials (in case of presentations, fliers, brochures) only for purposes in relation with the telecommunications activity of NobelCom which include, but are not be limited to: display, public relations or marketing.
Selection and announcement of winners
The winners will be announced on November 3rd, 2015 and there will be a total of five winners selected from all the valid entries (unless otherwise specified), through a random draw. All valid daily entries will be assigned natural consecutive numbers, staring with 1 (One). An entry is considered valid if it complies with the requirements of this giveaway, as stated above. We only allow 1 (one) entry per person and a person can only win one prize during the total period of the giveaway. If an individual uses false data or multiple accounts in order to obtain more entries, then the individual shall be disqualified. In addition, the following categories of entries, but not limited to, shall be automatically disqualified: entries generated by automated software, scripts, macro or other type of computer software or code; entries generated by any type of automated device; entries that are incomplete, illegible, corrupted, forged, false, deceptive or in any way non compliant with the present set of rules. We reserve the right to assess and to decide, at our sole discretion, if an entry is valid or not. Any individuals who attempt to tamper in any way with the Giveaway shall be automatically disqualified or banned from entering the Giveaway. "Tampering" includes any attempt to fraudulently obtain access to the server hosting the Giveaway or to perform any action that interferes with the aforementioned server.
The winners will be announced on November 3rd, 2015 on the same page where the sweepstakes is held. In case the first randomly selected winner fails to get in touch with us (via email) within 48 hours of announcing him/her as winner, we'll draw a second winner; if the second randomly selected winner fails to get in touch with us, we'll hold a new draw, and so on. The winner shall be considered "confirmed" immediately after sending an e-mail to our address – social@nobelcom.com stating the PIN /NobelCom account to be recharged. "Failure to get in touch" shall mean the Participant's failure to contact us within 2 (two) business days via e-mail. NobelCom is not responsible in any way for any failure in transmitting the e-mail.
Prizes and prize delivery
There will be 5 confirmed winners each of whom will receive $20 in Nobelcom.com calling credit, all winners drawn on November 3rd, 2015 from the people who respected the giveaway rules. Prizes will be delivered in the period November 3rd, 2015- November 6th, 2015 as soon as all the five winners have confirmed their winning. Prizes are non-transferable, with no cash redemptions, equivalents or substitutions except if it is approved by NobelCom, at its own discretion. All prizes are awarded "AS IS" and without warranty of any kind, express or implied (including, without limitation, any implied warranty of merchantability or fitness for a particular purpose). You will be solely responsible for all federal, state, international and/or local taxes, and for any other fees or costs associated with the prize(s) you receive, to the extent permitted by mandatory applicable law. The Approximate Retail Value of the prize(s) is based on available information provided to NobelCom and the value of any prize awarded to a winner may be reported for tax purposes as required by law.
NobelCom reserves the right to invalidate entries by winners who have unresolved issues with our company or any of the brands registered under NobelCom, such as but not limited to: payment disputes, unjustified charge-backs and so on.
NobelCom also reserves the right to cancel any of the giveaway at any moment, if is so deems necessary (either due to security or any other reasons).
NobelCom reserves the right to use any content you post or share on its Twitter page – as part of these giveaway – in any future advertising or marketing materials, either online or offline.
By entering any of the giveaway comprised in this campaign, you implicitly agree to all of these terms and conditions and agree to waive all rights to seek punitive, incidental, consequential or special damages, or any other damages.
By participating in the giveaway you agree to defend, indemnify and hold harmless Twitter, NobelCom, its affiliates, officers, directors, employees and agents from and against any and all third party claims and all liabilities, assessments, losses, costs or damages resulting from or arising out of: i) your breach of this set of rules or any applicable terms and conditions, privacy policy or API terms of use; ii) your infringement or violation of any intellectual property, other rights or privacy of Twitter, NobelCom or a third party.
By entering any of the sweepstakes comprised in this campaign, You agree that the exclusive jurisdiction for any and all disputes with NobelCom resides in the federal court for the Southern District of New York, USA and You further agree and expressly consent to the exercise of personal jurisdiction in the Southern District of New York, USA in connection with any such dispute including any claim involving Enjoy Prepaid, NobelCom, its employees, officers, and directors.
We also need to state that THIS PROMOTION IS IN NO WAY SPONSORED, ENDORSED OR ADMINISTERED BY, OR ASSOCIATED WITH, TWITTER. YOU UNDERSTAND THAT YOU ARE PROVIDING YOUR INFORMATION TO NOBELCOM AND NOT TO TWITTER.
This having been said, we wish best of luck to all of our participants, and we hope you all have a fun time taking part in our promotions!