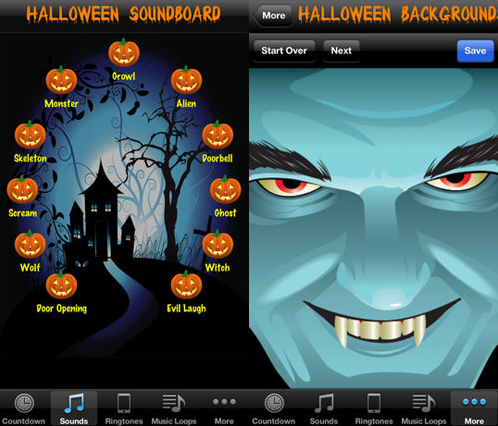 With Halloween creeping around the corner what better way to make it more fun than with some spooky apps? Get into the Halloween spirit and spice thing up with scary ringtones, zombie pets and not so friendly ghosts.
Track N Treat
This is a great app for parents who consider their children to be old enough to embark alone in the Halloween adventure and go trick and treat by themselves. The app allows parents to follow their child`s location on a map. Make sure that their smartphone is fully charged, though. This app is hungry for some battery. Track N Treat is available only for iOS users.
Make A Zombie
Now you can have a zombie as a pet. How cool is that? With Make A Zombie you can unleash your imagination and create the most horrifying creature of all time. You have some spine-chilling body parts at your disposal to complete your creation, which you can even share on Twitter or Facebook when it`s done. Make A Zombie is available on both, Android and iOS.
Halloween!
Halloween! is the all-in-one app as it contains a library of Halloween spooky ringtones, wallpapers, gruesome costume ideas and trivia. It also comes with an incorporated flashlight that will be very helpful when you go trick or treat. Halloween is available on iOS.
GhostCam
GhostCam lets users create their own haunted place. You can insert various apparitions in photos creating a very realistic image that will definitely spook your friends. Create the creepiest photo by downloading the app from App Store or Google Play.
NobelApp
NobelApp is the perfect app to communicate all your Halloween plans with your friends and family back home. Have you told them yet what costume you picked? There is still time to benefit of our special Halloween offer and receive 13% discount on NobelApp Credit by using promo code LUCKY13 at checkout. NobelApp is available for both iOS and Android users.
Happy Halloween to everyone!
You may also be interested in...