If travelling made it to your New Year Resolutions list for 2015, here's a list complied for you with love, with the best apps out there to help you stay on track – as they say, "don't worry, by …appy"!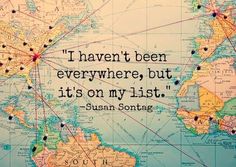 First, make sure you pack everything you need! Travel List – Trip Packing and Planning
If you're a little forgetful or absent-minded, that's ok! This app will make sure you have everything you need with you. You can create trips and set multiple item alarms for those last minute pickups that can't be absent from your travel bag.
How to get it: $1.99; Available for iPhone only.
Taking the plane? Flightradar24 – Flight Tracker
Stay on track with this smart app! Now you no longer have to sit and wait in the airport wondering what's going on. You can track your flight in real time, any time. And if you're bored, it's packed with nifty features, such as the ability to view what the pilot sees, live!
How to get it: $3.99; Available for Android and iPhone.
Now that you've arrived at your destination, find out the best way to get around! Citymapper
Navigate like a local and never get lost again in any of the cities supported by this lifesaving app: London, Paris, Berlin, Madrid, Barcelona, Milan, Rome, New York City, San Francisco, Chicago, Washington DC, Boston, Mexico City. This little app will save you time and money so your holiday's more like a holiday than a labyrinth.
How to get it: Free; Available for Android and iPhone.
Missing someone? Call them with no stress about the cost! NobelApp
Because home is where the heart is but there's nothing like hearing a familiar voice and sharing a story when it's fresh! NobelApp helps you save on your international calls. You can call mobiles and landline anywhere in the world at super low rates and with great voice quality.
How to get it: Free; Available for Android and iPhones.
Things to see, places to eat: TouristEye – Travel Guide
This app has your back with reviews and suggestions from real people galore! Complete with proximity features, guides and real photos of places, you can count on this little app whenever you're in a new place; plus it works offline too!
How to get it: Free; Available for Android only.
Now you're all set for an awesome adventure/holiday/anything-you-want-it-to-be!
Have a wonderful weekend,
The Nobel Team
Image via hercampus.com.
You may also be interested in...