Jamaica - Cell calling cards from United States
Calling from United States to Jamaica - Cell

Rounding: 4 minutes Maintenance Fee: 99.0¢ per week Connection Fee: None
View Details

Rounding: 1 minute Maintenance Fee: 49.0¢ per month Connection Fee: None
View Details

Rounding: 1 second Maintenance Fee: None Connection Fee: None
View Details
Mustang Deal
70
minutes
2129

¢/min

Mobile & Landline

Elephant Deal
180
minutes
1661

¢/min

Mobile & Landline

NobelApp Credit


2390

¢/min

The rates shown above are for using a local access number. In case of using the toll-free access number provided, there is an additional cost of 1 ¢/minute.

The rates advertised above apply for calling to cellular phones. Rates for calling landline may differ.
Why

use NobelCom?
Calls are made easy with NobelApp
You can use your phone card to Jamaica - Cell to make calls with NobelApp via WiFi/3G & Access Numbers. NobelApp works on iOS and Android. Alternatively choose NobelApp Credit and take full control of your expenses with call history, recharge any cell phones worldwide and send international text messages at competitive rates. Check our rates to Jamaica.
Each purchase is rewarded with Nobel Points
We reward each and every one of our customers for their loyalty. That's why we're offering loads of Nobel Points for every recharge (or new purchase) and also for recommending our Jamaica - Cell phone cards to your friends.
Promotions, benefits and ongoing support
As soon as you sign up with NobelCom, you automatically become part of our Nobel Care program; you will be rewarded for being a loyal customer and we'll do our best to ensure you get all the support you need. 24/7 all year-round.
What customers say
I just wanted to say Thank You. I am able to afford to be in contact with my family!
Carol W., Colorado, US
Hey folks - having a great experience with your cards and staff. Very helpful and easy to get started. Thanks for the great service!
Carol N., New Mexico, US
How

do I buy the Jamaica - Cell phone card?

Get your NobelCom prepaid phone card in 3 simple steps: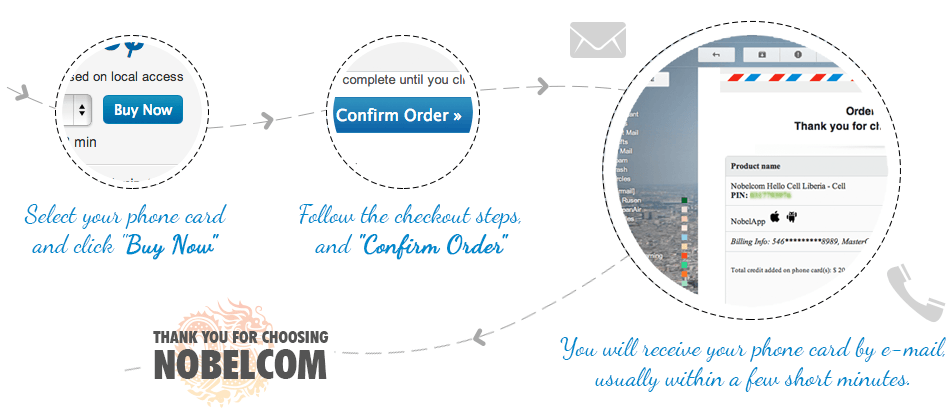 How

do I use my calling card to Jamaica - Cell?
From any phone
Dial the access number; enter your PIN; enter the destination number (country code included).
View Local Access Numbers
From your smartphone
Download and install NobelApp for iOS and Android; follow the one-time setup wizard and then start calling.
Get NobelApp
Whatever option you choose, you will always get the same low rates for your calls!
What

calling features do I have on my prepaid phone card to Jamaica - Cell?
WiFi/3G Calls
Call anytime you want using the available WiFi/3G & Access Number options with NobelApp.
Pinless Dialing
When this option is enabled, you will no longer be required to enter your PIN during the dial process.
Speed Dial
Make dialing even faster: type in just two keys instead of the entire phone number.
Local Access Numbers
Always use a local access number instead of the regular 800 number, if available.
With NobelCom

, you get low rates for high quality calls from United States to Jamaica - Cell

You can use NobelCom's prepaid phone cards to stay in touch with all your friends, family and business partners in Jamaica - Cell without making any compromise on call quality.

NobelCom's Jamaica - Cell prepaid phone cards are ideal for your calling needs, and you can use any phone to make international calls from United States to Jamaica - Cell, at minimum cost. If you need to know more about how to call Jamaica, visit this page

How to call Jamaica

.

NobelCom's international calling cards are easy to use, as they offer extra options like: automatic recharge - so you never run out of credit and Pinless Dialing - making the dialing process a lot faster and simpler! Enjoy low rates for your international calls from United States to Jamaica - Cell with NobelCom rechargeable phone cards. You might also want to check

Jamaica - Cell Related Phone Cards

.